Jerry Raz, Piano Technician
Piano Tuning & Repair in the San Francisco Bay Area Since 1989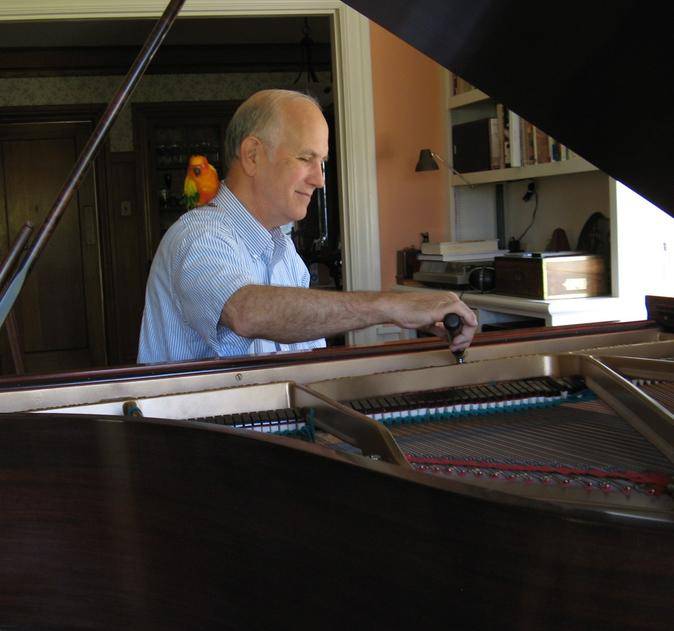 I have been providing a high quality piano tuning and repair service to private and institutional clients in Berkeley, Oakland and other East Bay communities, San Francisco, Contra Costa and east Marin County since 1989.
         Jerry Raz, Piano Technician
"Jerry has been my piano technician for well over a decade. I wouldn't think of entrusting my beloved instrument to anyone else."
               ….Chris B., San Francisco
We offer a wide variety of services that should meet all your piano maintenance needs
Tuning is the process of adjusting the tension of each of the  220 strings on the average piano until it is at the correct pitch (A-440) and the notes are in relative tune with one another.  A pitch raise may be required on a first appointment, particularly if the piano hasn't been tuned in a long time.
The cost of tuning is $185
The cost of a pitch raise is $100
There are thousands of parts that make up each piano, including but not limited to, approximately 220 strings, 88 hammers, shanks, flanges, whippens, springs, captstans, various regulating screws, felt and paper shims, etc. When any of these parts break or get out of regulation, the piano will malfunction in one way or another.
We do just about every kind of repair a piano might need.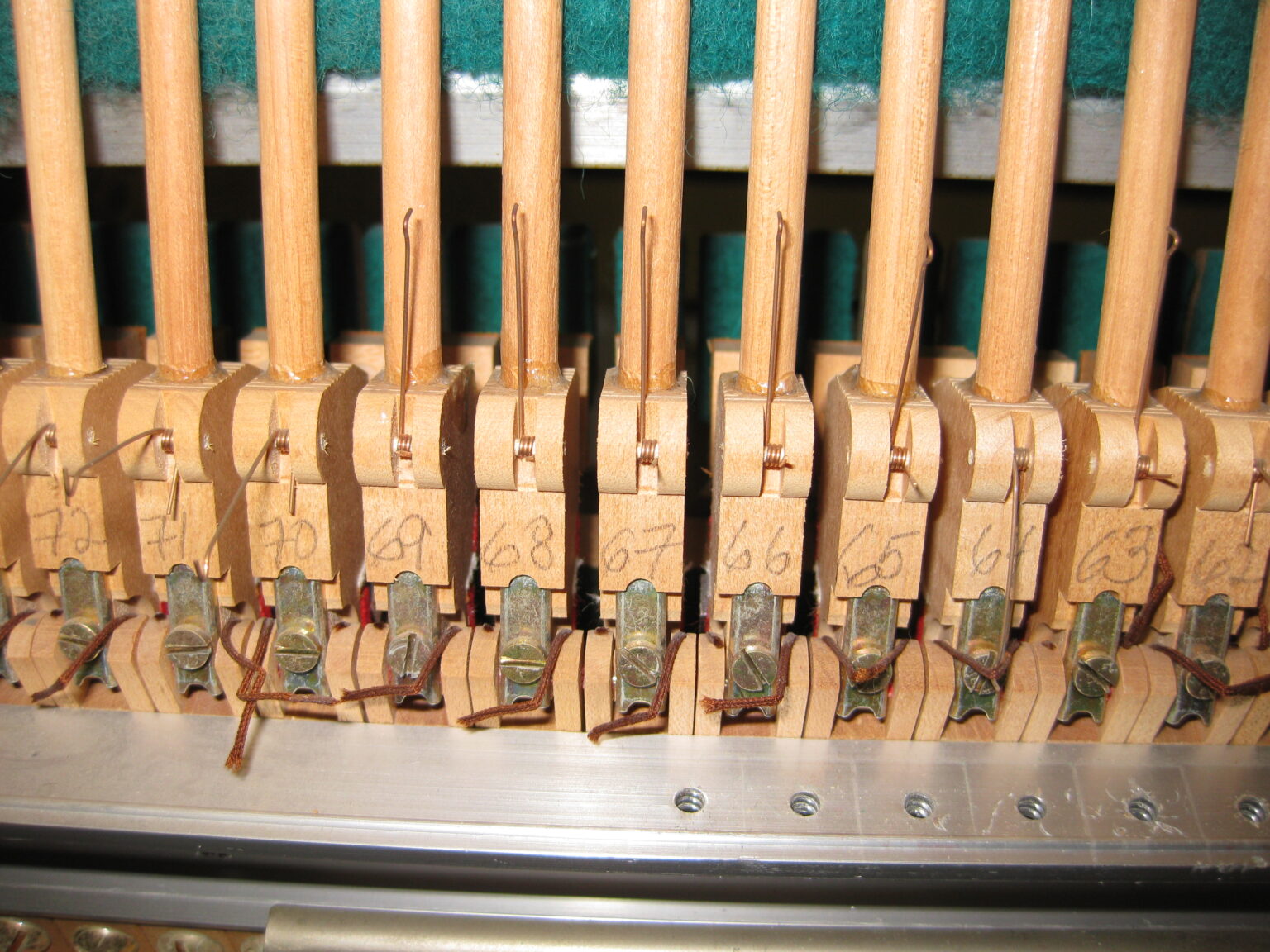 Broken lanyards in a vertical piano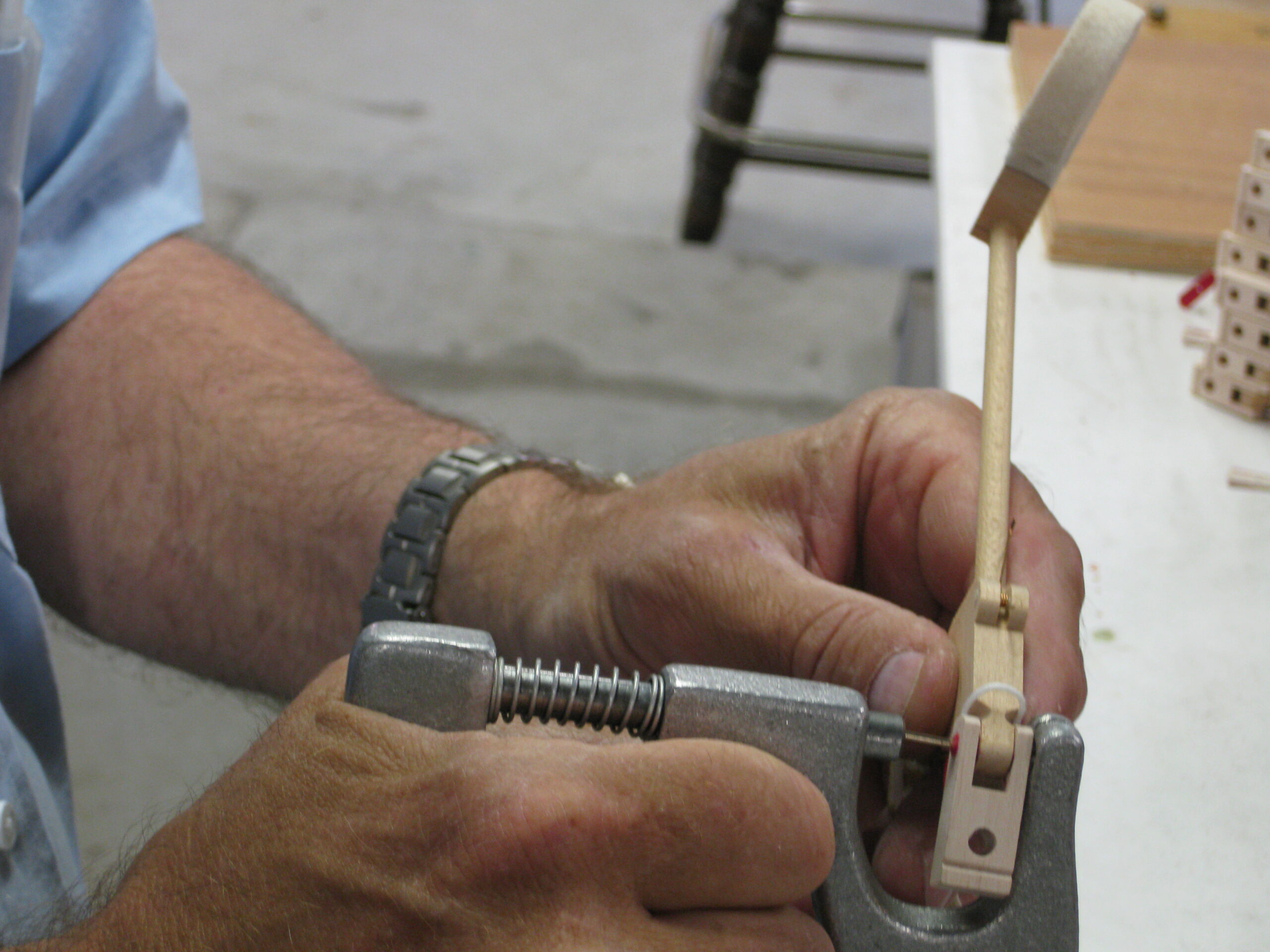 Repinning a hammer flange (hinge)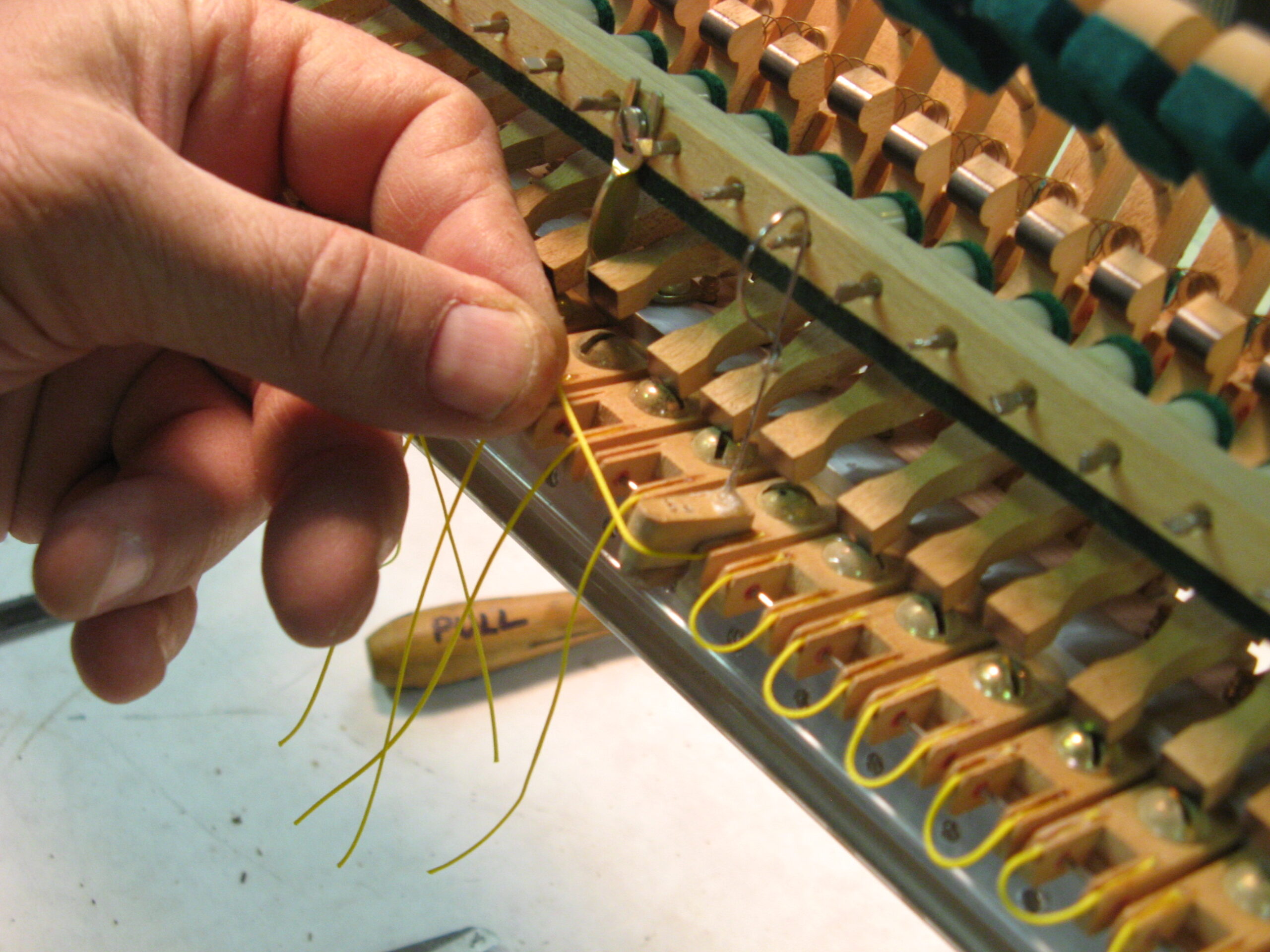 Lanyard repair in progress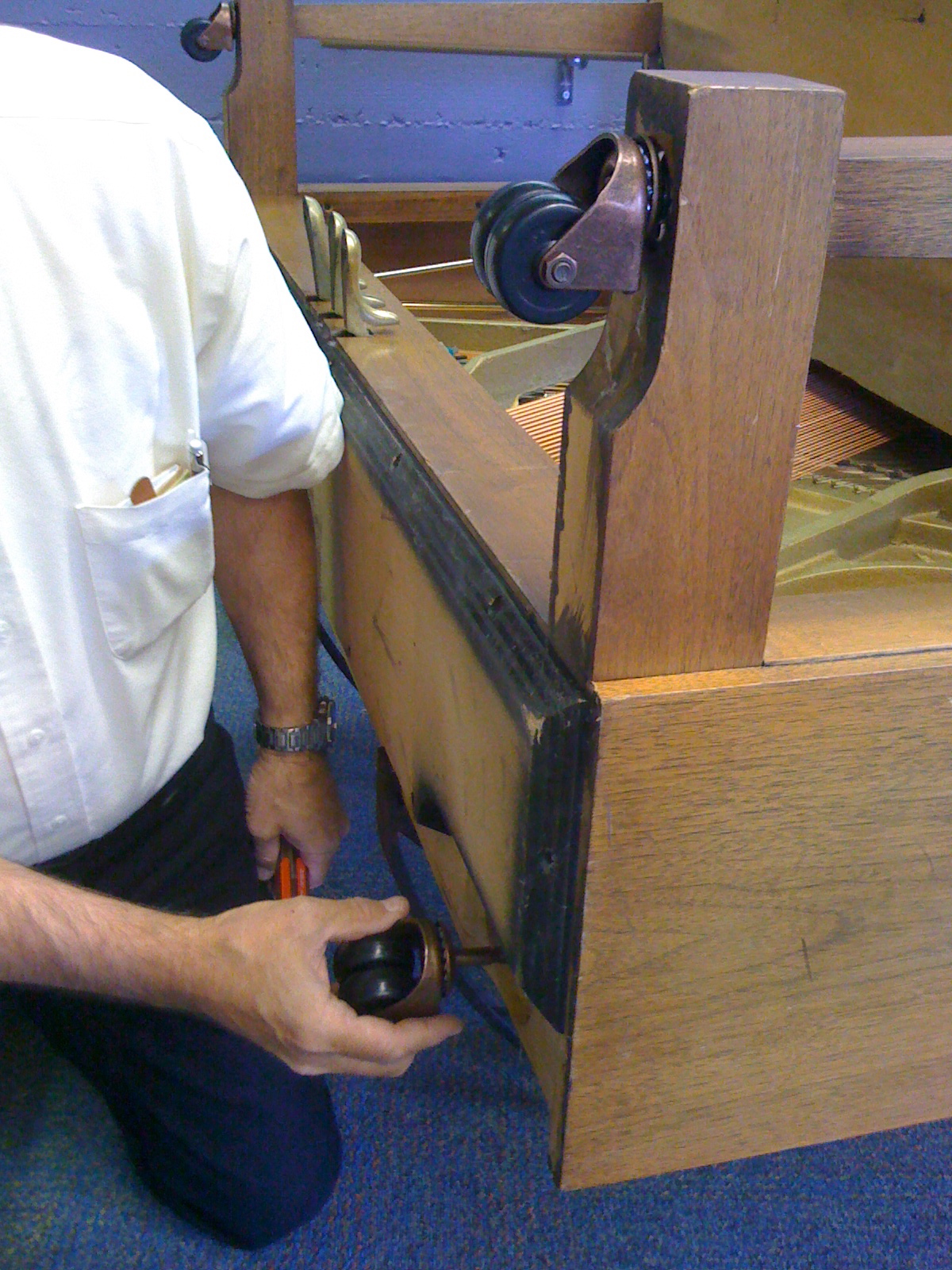 Replacing casters on a vertical piano
Regulation includes includes the many steps required to make all the notes on a piano function as they did when the piano was new.  The time period between regulations will vary depending on how much and how hard the piano is played.  On average, a piano will need to be regulated every few years.  When many notes begin to malfunction, you will know your piano is due for regulation.           
Voicing is the process whereby the tone of a piano is changed through reconditioning the hammers. After years of playing, the hammer felt becomes compressed and deep grooves can form in the felt. This affects the tone the piano produces…usually making it brighter and harsher. Voicing can bring back a more mellow tone. Conversely, some pianos have too mellow a tone and the hammers need brightening.
A piano's action includes the hammers with their shanks and flanges, the whippens (consisting of all the other moving parts) and the action frame to which they are all attached.  Action rebuilding ranges from replacement of the hammers, shanks and flanges to replacement of all the parts and felts that make up the piano's action. When an action is rebuilt, it is also regulated to make sure all the new parts function properly.  New hammers are always voiced to ensure a tone that is consistent and pleasing to the piano player.
Some of the steps in rebuilding an action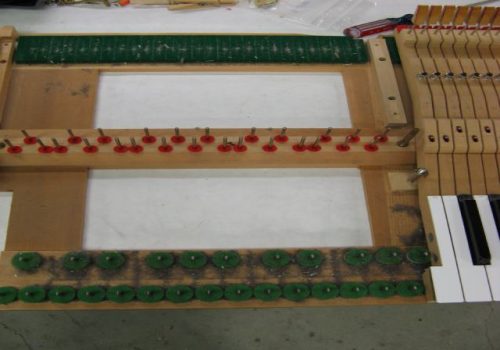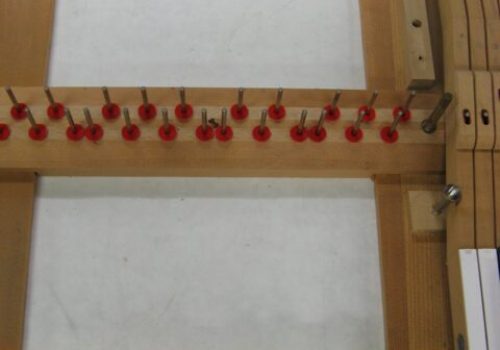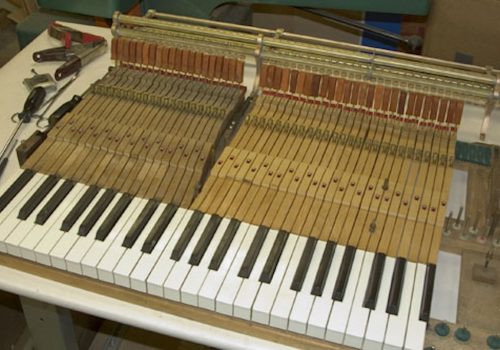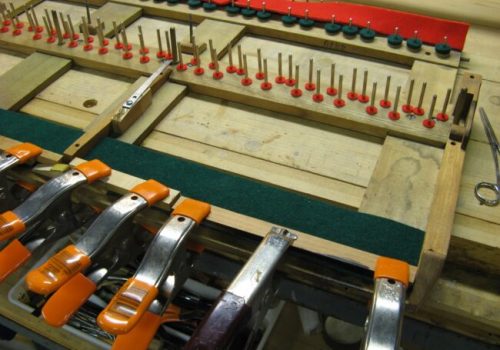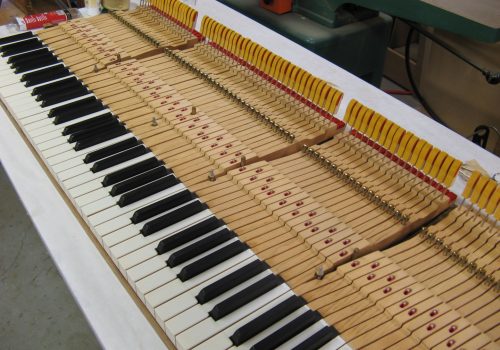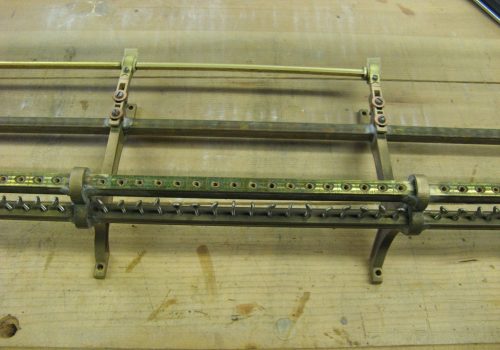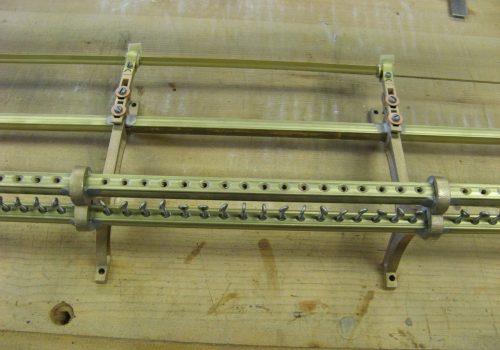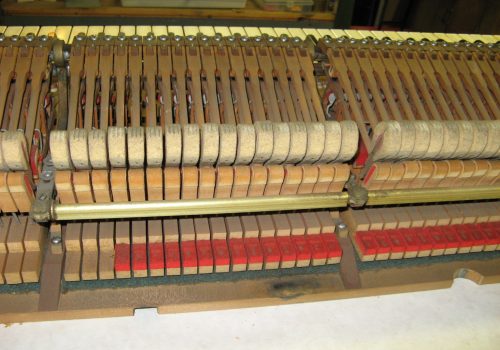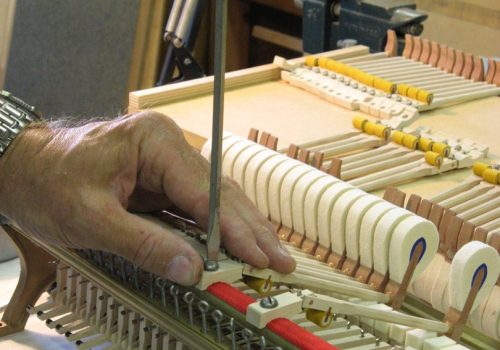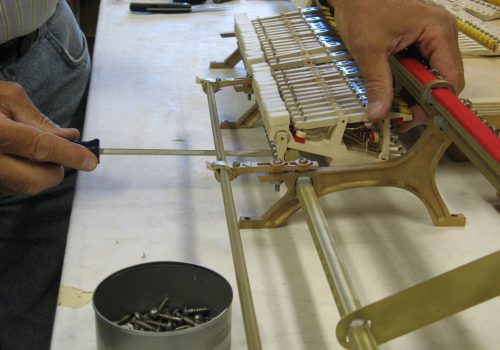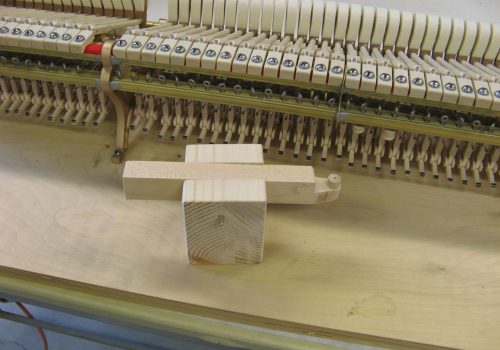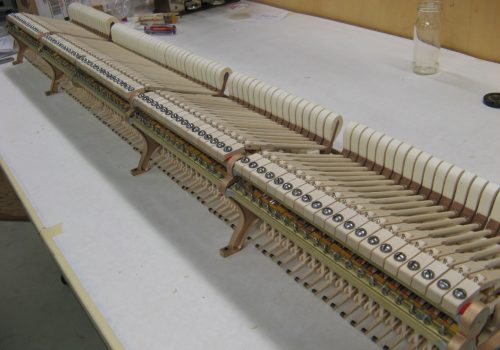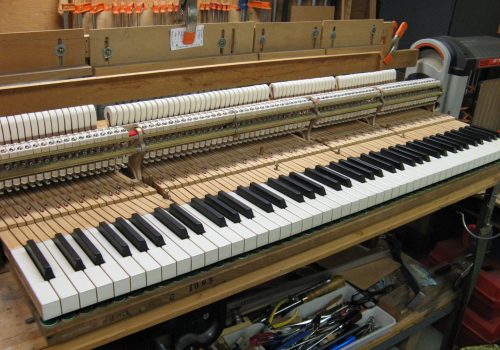 More than anything else, changes in humidity can cause a piano to out of tune.  Playing a piano can contribute to its going out of tune, but changes in humidity play a greater role.  Because changes in temperature cause change in humidity, it's possible to minimize the effect of humidity on your piano by placing it on an inside wall, away from windows and heating vents, and keeping the room evenly heated in winter. 
These measure will help.  But a Dampp Chaser humidity control system, installed out of sight but right inside the piano, is the most effective means of regulating the humidity in the immediate vicinity of the piano.  Not only will the system keep the piano in better tune, but it will prevent the long-term damaging effects of soundboard expansion and contraction that occur with humidity change.  Jerry is a certified field expert for Dampp Chaser products.
Jerry is one of the few piano technicians in the Bay Area with expertise and experience in repairing piano leg problems. Although vertical pianos can also have these problems, most leg problems occur in grand pianos. Often, someone will notice that the piano seems unstable or that one of the legs appears to be loose.
This situation can be dangerous and should
always be evaluated and repaired.
The problem often occurs in the metal plates that attach the legs to the piano.  One of the two interlocking plates may be cracked, or there may be other problems, such as weak or failed glue joints, or the wood may be cracked.  Caster replacement may be necessary as part of a leg repair job.
Pedal lyre repair requires many of the same techniques required for leg repair.
Fitting a grand piano with new leg plates
Piano appraisals are needed for various reasons. We recommend that you hire a piano technician to appraise any used piano you are considering for purchase, especially if it's an older piano. A technician can let you know what kind of maintenance or repairs the piano will need, as well as the market value. If you are purchasing a piano, we also recommend that you read The Piano Book by Larry Fine. It's an excellent layman's guide to buying a piano.
If you are selling a piano you might want to have it appraised so you know how much to ask for it.  (We recommend that you have a piano tuned before you offer it for sale. It will be easier to sell and should command a better price.) We also do written appraisals, which you would need for either insurance or estate purposes, or if you plan to donate the piano to a charitable organization.
If your piano needs tuning or repair, we'd love to hear from you.
Please call or fill out the contact form if you have any questions
or would like to make an appointment.
Jerry Raz, Piano Technician
Laurie Raz-Astrakhan, Business Manager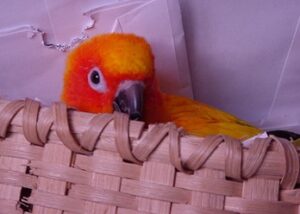 Here's what some of our clients say about our service:
"I have a Steinway 'B' Studio concert grand that I have owned for over 25 years, the last 15 years of which have been under the superb care of Jerry Raz of the Allegro Piano Service.  Over the years I have had several fine piano technicians and tuners, and a couple not so fine!  Jerry ranks right at the top of anyone who has ever attended my piano.
Each time he tunes my instrument, I can't wait to sit down and play it, as the sound that his tuning enables is second only to the pureness of the most heavenly of sounds.  Most often after Jerry finishes and I sit down to play, I feel that the piano thanks me by playing me, instead of the other way around!
Simply put, Jerry is the only person I will allow to tune or work on my Steinway."     …..Lauren Y., Orinda
"Jerry of Allegro Piano is the best!  He has kept my piano 'singing' for many happy, music-filled years."   …..Linda D., Lafayette
"I met Jerry while I was a violist with the Oakland Civic Orchestra. He tuned the piano for our concert. With all the racket of people talking, chairs being moved around, the banging and clanging, he sat there alone with his equipment and the task at hand and worked his way through those 88 notes. It was like it was just him and the piano. I was very impressed.
Since then he agreed to take me on as a client. From his knowledge of the piano; its history, the pros and cons of all the different brands, the care a piano needs, I knew my baby grand was in the best hands. That was about 10 years ago. He has maintained a professional attitude throughout the sessions he spent with my piano, from being on time for each appointment to teaching me, an amateur, the things I needed to know.
I recommend Jerry to anyone who wants to keep their piano in the best possible condition." …..Rusty L., Alameda
"I have been a long time customer of Allegro Piano Service.  They have tuned both uprights and baby grand pianos for me, and completely rebuilt my 1920 player piano, putting it back into perfectly working condition and restoring the entire piano.  Jerry Raz is an amazing piano tuner/technician, and his work is flawless.  Plus, he likes animals, and so can handle my two dogs jumping on him when he arrives.  The best piano service in the Bay Area!                                 ……Dmitri B., Berkeley
"Jerry has been tuning my piano for over 15 years.  Five years ago he rebuilt the action in my 90 year-old Steinway. The voicing now matches the sound I want and the action is perfect. A well maintained piano enhances your playing and I count on Allegro."            …..Robert E., Berkeley
"I give the highest recommendation possible for Allegro Piano Tuning Service and I should know because I've been a customer for 25 years.  Jerry is skilled, professional, and pleasant, and always on time.  I trust him in my home, if I have to leave while he is tuning my piano.  His wife, Laurie is great about calling with appointment reminders.  I love the sound of a well-tuned piano and feel grateful to have found Jerry." ….Kim S., El Cerrito
"If you love your piano, Allegro Piano is a great investment in its future.  And, if its suffering from age or "mis" or "dis" use, a wonderful investment in its present as well.
Jerry Raz of Allegro Piano has been servicing my Yamaha upright for over 20 years. It sounds more (how can I say this?) "mature" today than when I first bought it. In short, it's in excellent condition and sounds wonderful.
There came a time when I was not able to play for a long while and the Yamaha suffered from disuse. But when I was able to practice once more, Jerry carefully and adroitly brought it back to life.
Jerry is extremely piano savvy. He is very personable and easy to talk to, so discussing your piano's ills or idiosyncrasies and what to do about them is comfortable and comforting.
I highly recommend Allegro Piano and Jerry's service and expertise."    ….Rick G., Martinez